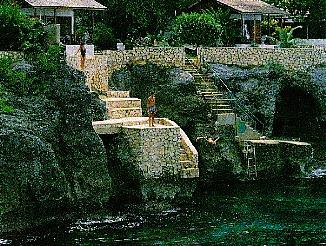 Banana Shout
December 1st, 1998
The cliffs of the West End are a big part of the whole Negril vacation experience. Taking a dive off the cliffs into the crystal blue Caribbean is unforgettable. And one of the places to enjoy your own private cliffside resort is Banana Shout - who just happens to be Beingee's latest sponsor hotel. Banana Shout is located on the West End, across from Rick's Cafe and has rooms on both the cliffside and across the road. You can find them easily located on the Beingee's Negril Cliff Map in our Where To Stay section that can be click to above or below. Thanks Banana Shout, without your support and the support of our other sponsors, we wouldn't be here! Daily Music News: Live from DeBuss - Tuesday night - NEN. Be there! As mentioned yesterday, the season is picking up in Negril and the NEN has a special holiday gift for you! DeBuss has started up Negril's first and only radio station - WEST104! The viewers (and listeners) the NEN (Negril Entertainment Network) will be able to listen to 6 hours of music and more from WEST104 for the next two weeks starting at 8:00am - yes - 8:00am with Haroldo in the morning! Our European friends should now have a better chance to join in our online fun! The regularly scheduled NEN events will be return on the 17th of December - until then the nightly broadcasts will be taking place at the now daily (nightly) shows from the Negril Yacht Club. Also, it looks like the Yacht Club will be hosting the NEN's first live wedding on the 8th! Yah mon! Details on how to join in and watch, listen and chat during all the pre holiday festivities on the NEN will be posted on the Negril Message Board each day so keep on checking mon! Irie!
At 5:31pm - as the sun sets... The temperature is 83° F, 28° C.
Click here for Translation







This page is sponsored by Catcha Falling Star on the majestic cliffs of beautiful Negril Jamaica. If you like this website, be sure to book your next visit with Catcha Falling Star - just click on the link to take a tour of the property! And be sure to let them know you saw them on Beingee's! If you want to be a sponsor, bemail us. Thanks!
Other area to visit in Jamaica:

© Copyright 1998. Beingee's. All Rights Reserved.