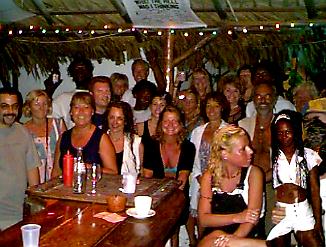 The Bat Posse
November 30th, 1998
Last weekend Negril was invaded by the Bat Posse from the Great White North. They decended on the Negril Yacht Club on Saturday night as Ivo Wiser and the Airwave Musicians mashed up da place! It was a great party - just ask Jackie the Bat (shown with the big grin on her face - front and center)! It was great having the Bat Posse join the Negril Crew last Saturday! Daily Music News: Things are picking up in Negril, and DeBuss has started up a Negril radio station - WEST104! As a pre holiday gift to our viewers (and listeners) the NEN (Negril Entertainment Network) will be broadcasting 6 hours of music and more from WEST104 starting at 8:00am - yes - 8:00am with Haroldo in the morning! It's an interesting morning show - be sure to listen in! This should give our European visitors a better chance to join in our online fun! The regularly scheduled NEN events will be return on the 17th of December - until then the nightly broadcasts will be taking place at the now daily (nightly) shows from the Negril Yacht Club. Also, it looks like the Yacht Club will be hosting the NEN's first live wedding on the 8th! Yah mon! Details on how to join in and watch, listen and chat during all the pre holiday festivities on the NEN will be posted on the Negril Message Board each day so keep on checking mon! Irie!
At 8:27am - an early morning breeze. The temperature is 78° F, 25° C.
Click here for Translation







This page is sponsored by Catcha Falling Star on the majestic cliffs of beautiful Negril Jamaica. If you like this website, be sure to book your next visit with Catcha Falling Star - just click on the link to take a tour of the property! And be sure to let them know you saw them on Beingee's! If you want to be a sponsor, bemail us. Thanks!
Other area to visit in Jamaica:

© Copyright 1998. Beingee's. All Rights Reserved.