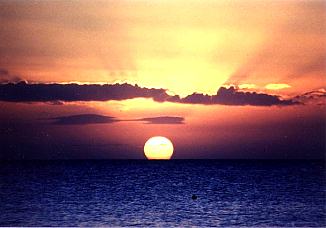 Sel-Vin's Sunset #2
November 29th, 1998
Last week we featured a sunset taken by one of our Negril Message friend's, Sel-Vin. He sent in 3 sunsets for us to choose from, but that was just too hard of a choice. Today we feature Sel-Vin's second Sunday Sunset of the Week - thanks Selvin! And as another special bonus for our Beingee's viewers, you can click here or on the picture for a full size version of this sunset for your Window's background! Irie! Daily Music News: The Saturday night broadcast on the NEN from the Negril Yacht Club was quite a party with the Bat Posse. Jackie the Bat arranged a group photo, so look for that later this week on Negril Today. The Negril Entertainment Network will be back online on Sunday night from the Yacht Club starting around 8:00pm JA time. Details on how to watch, listen and chat with the NEN will be posted on the Negril Message Board on Sunday evening as the time approaches!
At 12:03pm - the breeze from the sea. The temperature is 80° F, 27° C.
Click here for Translation







This page is sponsored by Catcha Falling Star on the majestic cliffs of beautiful Negril Jamaica. If you like this website, be sure to book your next visit with Catcha Falling Star - just click on the link to take a tour of the property! And be sure to let them know you saw them on Beingee's! If you want to be a sponsor, bemail us. Thanks!
Other area to visit in Jamaica:

© Copyright 1998. Beingee's. All Rights Reserved.