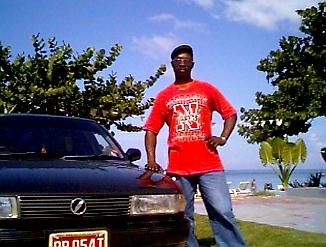 Roger's Taxi
December 5th, 1998
If you are spending some time in Negril near the northern end of our seven miles of soft white sand, up around Hedonism II, Grand Lido or Point Village, you may want to take a side trip away from the resorts. One of the taxi drivers that work that area of Negril is Roger, shown here with his red plated taxi. Look for him and other red plated drivers to take you around Negril and the surrounding sights. The red plate signifies that the driver is authorized by the Jamaican Tourist Board and insured to take you to your intended destination. Look for Roger out by Norman Manley Blvd. He can serve any of driving needs while vacationing in Negril. Daily music news: The NEN continues with Preachermon and Funny Face live from the Negril Yacht Club in the evening and DeBuss's new Negril radio station - WEST104 from Eddie's Tigress II. Check the Negril Message Board daily for details on how to watch, listen and chat live with the NEN! Irie!
At 6:25pm - another evening in Negril. The temperature is 77° F, 24° C.
Click here for Translation







This page is sponsored by Catcha Falling Star on the majestic cliffs of beautiful Negril Jamaica. If you like this website, be sure to book your next visit with Catcha Falling Star - just click on the link to take a tour of the property! And be sure to let them know you saw them on Beingee's! If you want to be a sponsor, bemail us. Thanks!
Other area to visit in Jamaica:

© Copyright 1998. Beingee's. All Rights Reserved.