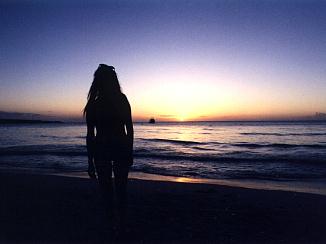 Sunset of the Week
December 6th, 1998
This week's Sunday Sunset of the Week is the final in a series of 3 sunsets that was emailed to us by one of our Beingee's "boarders", Sel-Vin. Once again, as an added gift, you can click here or on the picture for a larger version of this sensual sunset suitable as a Window's background. Thanks again Sel-Vin! If you have taken any photos that you would like to submit to Beingee's for possible use as a Negril Today feature, scan them in a JPG format and feel free to email them to us! Yah mon! Daily music news: The NEN will continue it's daily broadcast schedule with Funny Face and Preachermon (filling in for me) live from the Negril Yacht Club each evening this week and the new morning broadcast of DeBuss's new Negril radio station - WEST104 from Eddie's Tigress II. As always, check the Negril Message Board daily for details on how to watch, listen and chat live with the Negril Entertaiment Network! Irie!
At 6:45pm - a fun evening in Negril. The temperature is 77° F, 24° C.
Click here for Translation







This page is sponsored by Catcha Falling Star on the majestic cliffs of beautiful Negril Jamaica. If you like this website, be sure to book your next visit with Catcha Falling Star - just click on the link to take a tour of the property! And be sure to let them know you saw them on Beingee's! If you want to be a sponsor, bemail us. Thanks!
Other area to visit in Jamaica:

© Copyright 1998. Beingee's. All Rights Reserved.