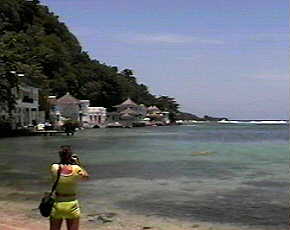 Port Antonio Today

Amazing Hideaway

5th, August 1996 (Continued)

We have an amazing discovery! If Robin Leach doesn't know about this place, then he doesn't know anything! Right on the Caribbean! Overlooking the Blue Lagoon! Simply one of the most amazing villas available anywhere on the planet! These are the Blue Lagoon Villas in historic Port Antonio!

At 6:49 am, hummingbirds outside my doorway. The temperature is 77° F., 25° C.