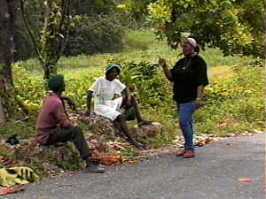 Missy: Soh ah jus right afta di Sunsplash di Sumfest start.

Jillette: Almost two week ah di best reggae music

Byron: Jus like dat mi bwoy is all about jammin.

Missy: Ah nuff man ah plan fi teck di road.

Byron: Soh wah about yuh self?

Missy: Yuh cyan't ask mi dat yuh noh know say mi ha fi di dah pan mi ear. Yuh cyan't ask mi dat.
Click for the previous Back Ah Yawd, or click for the next one.