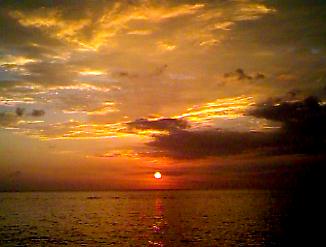 Sunset Time
May 31st, 1998
Each week we take time out to bring all of our busy cyber visitors a special Sunday page of one of the spectacular sunsets for which Negril is famous. Today's sunset was taken on Friday evening nearby the Blue Cave Castle. And speaking of the Blue Cave Castle - we will be broadcasting the Bob Clarke Show on IRIE FM from right across from the Blue Cave - at Peachy's Cliff Bar! Each Sunday they have a Bob Clarke party, so this week we will be joining them for Bob Clarke! Details on how to join us by downloading your free Real Audio Player, listening to our broadcast and logging in to our Negril Chat Room will be posted on the Negril Message Board (found on our Main Menu). Listen to us this afternoon! There is a new Back Ah Yard today. Click on Back Ah Yawd above or below! Thanks mon!
At 11:46am - beautiful blues! The temperature is 89° F, 31° C.
Click here for Translation






© Copyright 1998. Beingee's. All Rights Reserved.