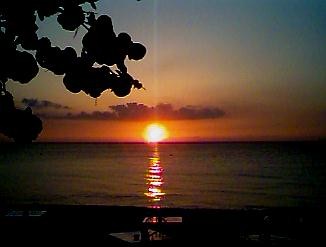 Sunset Sunday
May 24th, 1998
Sometimes you just need to get away from the stress and hassles that are thrown on you day after day. Sitting under a sea grape tree and watching the sunset can put a new perspective on your existance - clearing your mind - making it possible for you to readjust your priorities to those that are of actual importance. Inner searching under the sea grape at sunset. Try it mon, you may never be the same again. Today's picture courtesy of Nirvana, which is having their greatest summer room rate ever! Click here or on Specials above or below. Note: Join us LIVE nearly ALL DAY Sunday - we will be broacasting on the NEN from 3pm to 7 for the Bob Clarke IRIE FM Show, and then this Sunday evening at DeBuss for the Jack Radic's Concert - don't miss 'em mon! Back Ah Yawd is still on medical break - but Garth's hand seems to be healing so soon come!
At 8:42am - overlooking a crystal clear Caribbean... The temperature is 83° F, 28° C.
Click here for Translation






©Copyright 1998. Beingee's. All Rights Reserved.