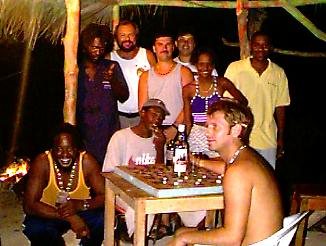 Tigress Court News
May 23rd, 1998
We have news today for Tigress Court on Negril's West End . The Canadian Crew was busy partying on Tigress Court at Prento's Thatch Hut Bar Friday night as we broadcast on the NEN late into the evening. It was just a warm up for next Tuesday's Birthday Bashment for Prento - we will be crawling there after the Pub Crawl 2 on Tuesday at Travellers! More news: Eddie's Tigress 2 on Tigress Court has some GREAT specials available for the summer! All Air conditioned rooms are US$35 per night (with a pay for 6 nights - get 1 free) and ceiling fan rooms are US$25 per night (with a pay for 5 nights - get 2 free)! WHAT A DEAL! This and other specials can be found my clicking on Specials above or below. Back Ah Yawd is still on medical break - it's hard for Garth to write with a damaged hand - soon come mon!
At 9:42am - a bright blue day in Negril! The temperature is 84° F, 29° C.
Click here for Translation






© Copyright 1998. Beingee's. All Rights Reserved.