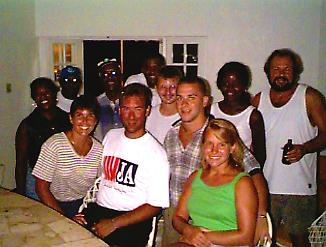 The Buckeye Crew
June 1st, 1998
At our Saturday night broadcast of the Bumper Force Sound System from Donna and Cowboy's Bashment at the Negril Yacht Club, we were unexpectedly greeted by an entire batch of Buckeyes from Ohio, USA! The Buckeyes joining the crew include Laura, Joe, Kevin and Cathy from Columbus and Thomas from Cleveland! Also airdelph was online in the Negril Chat Room from Columbus, but unfortuantely she just missed her sister (Laura) - but it was still nice to chat with another Buckeye. The others in today's picture include Lorna, Dudley, Delroy, another Thomas (from Berlin, Germany), Maxine (our lovely bartender) and of course the Music Mon! It was a great time and a great Real Audio broadcast - be sure to download your FREE RealAudio Play 5.0 from www.real.com before Tuesdays's (tomorrow's) live broadcast from DeBuss! You'l be glad you did! We have a new Back Ah Yard today. Click on Back Ah Yawd above or below! Thanks mon!
At 11:06am - just another day in the tropics! The temperature is 89° F, 31° C.
Click here for Translation






© Copyright 1998. Beingee's. All Rights Reserved.