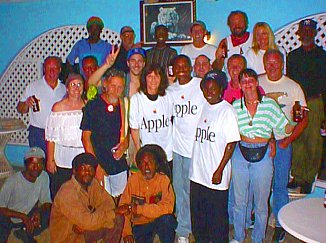 Birthday Bash!
January 29th, 1998
The party is on at another Thirsty Thursday Pub Crawl. This week we are celebrating Pirate's Birthday Bash at Tenby's Tigress 3 - R Bar! We are coming to you live via Netshow on the Negril Entertainment Network and on the Negril Chat Room! Our phoneline tonight is being supplied by the little shop across from Mama B's! A big up to them for their help! We have been joined by Jeff from Apple Store (flashing the peace sign) and we would like to say hi to everyone at the Apple Store! We will be having more from the party tonight - check the Mesage Board for details! Back Ah Yawd is taking break so we can add the latest Back Ah Yawd Index page. You can click and choose any particular episode you may have missed. Click on Back Ah Yawd to check out the latest index.
At 8:40pm, we are having a bash! The temperature is 80° F, 27° C.
Click here for Translation






© Copyright 1998. Beingee's. All Rights Reserved.