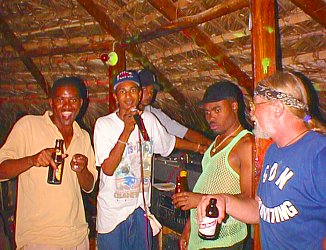 Thatch Hut Action
January 30th, 1998
The Live broadcast is happening tonight and we are live from the Thatch Hut Bar! Major Blacks just proved his DJ ability, we hoped to have Muma Leck here to challenge him but things happened mon! We will be continuing into the night - we hope Auntie Patti will be joining us. Thanks much for your attendance! Keep watching this weekend for the Ziggy Marley concert mon... Back Ah Yawd is taking break so we can add the latest Back Ah Yawd Index page. You can click and choose any particular episode you may have missed. Click on Back Ah Yawd to check out the latest index.
At 11:11pm, Major Black says big up to our visitors! The temperature is 80° F, 27° C.
Click here for Translation






© Copyright 1998. Beingee's. All Rights Reserved.