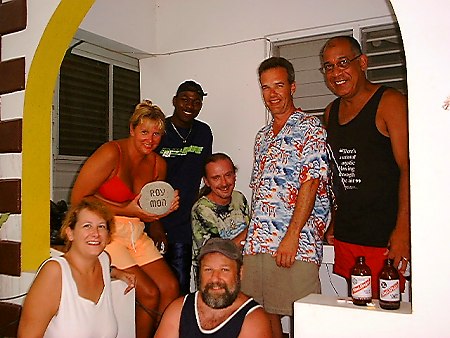 Porch Meeting of the Board!
July 28th, 2000
On Friday there was a Happy Hour gathering of boardies at Eddie's Tigress II! With tunes provided by the mystical Music Mon, the vibes were wild. Part of the webcast will be forever known as the "Mango Hour" as Mango (styling second from the right) got the video bug and just wouldn't shut up! Actually, I think that a month in Negril sent Mango to a place he has never been before! (grin) Thanks for all those involved in this porch party!
Daily Music News: The Negril Entertainment Network's Board Meeting Daze will continue at DeBuss Saturday night starting around 10pm! For more information about the Board Meeting Daze events - click on our Shows & Events listing in our Entertainment section! Keep checking the Negril Message Board for the latest on how to join the NEN for the next live webcast and chat in the Negril Chatroom! To make it to the Negril Message Board click on the Main Menu above or below and then look for the Negril Message Board link!
At 5:22pm - the rain has cooled the day once again... The temperature is 81° F, 28° C.
Click here for Translation








Other area to visit in Jamaica:

To meet the banner advertisers requirements, we need to post this link to their privacy policy section. Give it a click if you have any qualms about it mon!
© Copyright 2000. Beingee's. All Rights Reserved.