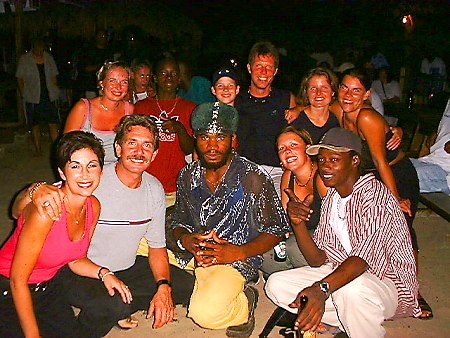 International Board Meeting!
July 29th, 2000
Fireman (center) became the main man on Saturday night's Board Meeting Daze held at DeBuss! With his unique style, he quickly captured the attention on many of the boardies in Negril! Although the NEN once again had phone difficulties, that did not prevent Fireman from gathering together a true international group of Internet friends! In this picture alone there are five countries represented, Germany, Bavaria, Canada, USA and of course Jamaica! It was great to once again meet some of the people who frequent the Beingee's Internet Negril web site and we are looking forward to the next Board Meeting Daze starting on the 8th of August, 2000! Look for more to announced soon mon!
Daily Music News: The Negril Entertainment Network's Board Meeting Daze once again had the Saturday curse and there were no working phonelines to webcast from - sorry mon! The NEN will be on break until Tuesday night at Mariner's Inn's Sunset Show. Keep checking the Negril Message Board for the latest on how to join the NEN for the next live webcast and chat in the Negril Chatroom! To make it to the Negril Message Board click on the Main Menu above or below and then look for the Negril Message Board link!
At 11:17am - the sun is up... The temperature is 85° F, 29° C.
Click here for Translation








Other area to visit in Jamaica:

To meet the banner advertisers requirements, we need to post this link to their privacy policy section. Give it a click if you have any qualms about it mon!
© Copyright 2000. Beingee's. All Rights Reserved.