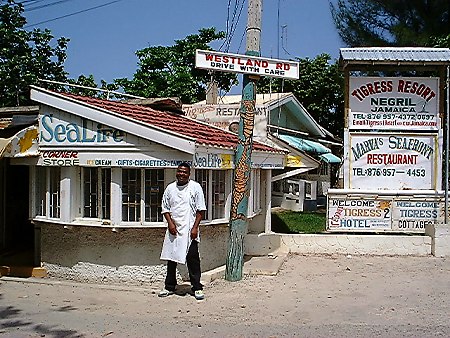 Kenute at Marva's!
July 27th, 2000
We caught up with Ken at Marva's Seafront Restaurant on Westland Road, commonly referred to as Tigress Lane. Ken has the innate ability to produce fabulous feasts for his visitors who become repeat patrons after their taste and keep coming back on future vacations to our tropical paradise! It is partially because of Ken's talent in the kitchen that the 3rd Annual Beingee's Internet Negril "Meeting of the Board" will be located on Westland Road (Tigress Lane)! The Meeting of the Board is being scheduled for the first part of February 2001 - it will be an all day event starting with Ken's exceptional breakfast and continuing late into the evening! The date will be announced soon as not to conflict with the annual Bob Marley Birthday Bashment at MXIII! More to come!
Daily Music News: The Negril Entertainment Network's Board Meeting Daze will continue at Eddie's Tigress II Friday afternoon for Happy Hour! For more information about the Board Meeting Daze events - click on our Shows & Events listing in our Entertainment section! Keep checking the Negril Message Board for the latest on how to join the NEN for the next live webcast and chat in the Negril Chatroom! To make it to the Negril Message Board click on the Main Menu above or below and then look for the Negril Message Board link!
At 3:38pm - the rain has cooled the day... The temperature is 82° F, 28° C.
Click here for Translation








Other area to visit in Jamaica:

To meet the banner advertisers requirements, we need to post this link to their privacy policy section. Give it a click if you have any qualms about it mon!
© Copyright 2000. Beingee's. All Rights Reserved.