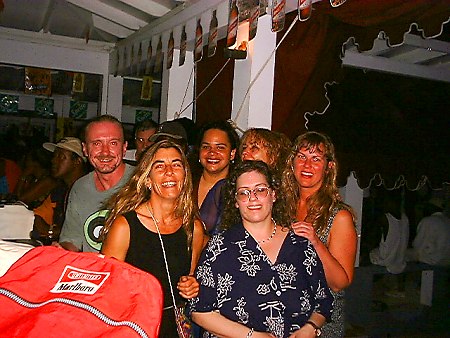 Board Meeting Daze - Roots Style!
July 26th, 2000
It was an invasion of the female kind at Roots Bamboo on Wednesday night as the group known as the Negril Sistas made their presence felt! Although the ladies were very friendly, trying to get them all to stand still long enough for a picture was quite a chore (grin)! The Negril Sistas are down here to have fun but also help the Negril community - on Thursday they were going to visit some of the local schools and provide some physical help as well as donations. On behalf of Negril, Beingee's would like to thank them for all their efforts! Big Up Ladies!!!
Daily Music News: The Negril Entertainment Network's Board Meeting Daze had another great webcast and chat on the 26th of July from Roots Bamboo! Thursday night's late night NEN webcast has been cancelled for personal reasons but will return from Eddie's Tigress II Friday afternoon for Happy Hour! For more information about the Board Meeting Daze events - click on our Shows & Events listing in our Entertainment section! Keep checking the Negril Message Board for the latest on how to join the NEN for the next live webcast and chat in the Negril Chatroom! To make it to the Negril Message Board click on the Main Menu above or below and then look for the Negril Message Board link!
At 10:23pm - tunes at the Hut... The temperature is 85° F, 29° C.
Click here for Translation








Other area to visit in Jamaica:

To meet the banner advertisers requirements, we need to post this link to their privacy policy section. Give it a click if you have any qualms about it mon!
© Copyright 2000. Beingee's. All Rights Reserved.