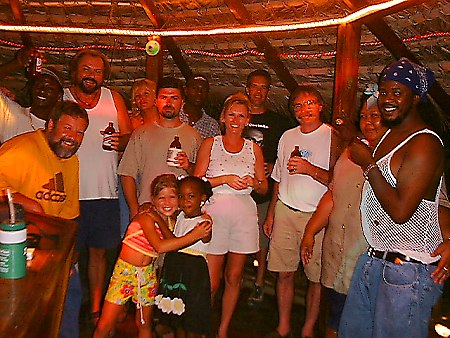 Board Meeting Daze at the Thatch Hut!
July 25th, 2000
It was an incredible evening both on the West End at Prento's Thatch Hut and on the NEN Internet webcast and Chat Room! The party kicked off about 9pm and many people attended both the Hut and the Chat! It would be impossible to remember all who joined in, but the two little girls in the front of the picture (Casey and Roxanne) became friends at first sight! With all the talk on the Negril Message Board (this week) about race relations, it is comforting to know that the young children (our future) are in a true sense "color blind". This world would be a much finer place if more adults would take heed of this simple way of viewing each other. Thanks Casey and Roxanne for showing us all the way!
Daily Music News: The Negril Entertainment Network's Board Meeting Daze started off great on the 25th of July at Prento's Thatch Hut! Wednesday night the NEN is headed for Roots Bamboo! For more about the Board Meeting Daze events - click on our Shows & Events listing in our Entertainment section! As always, keep checking the Negril Message Board for the latest information on how to join the NEN for the next live webcast and chat in the Negril Chatroom! To make it to the Negril Message Board click on the Main Menu above or below and then look for the Negril Message Board link!
At 7:40pm - the tree frogs begin their symphony... The temperature is 82° F, 28° C.
Click here for Translation








Other area to visit in Jamaica:

To meet the banner advertisers requirements, we need to post this link to their privacy policy section. Give it a click if you have any qualms about it mon!
© Copyright 2000. Beingee's. All Rights Reserved.