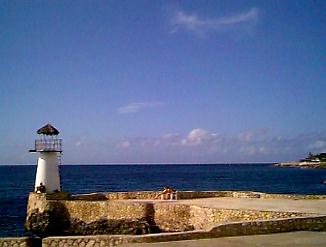 A Time to Reflect
November 25th, 1998
On a vacation in Negril, one has the opportunity so often missed in these hectic times, to sit back and reflect on things. Be it their lives, the world situation, the latest football season or just the amazing blue color of our portion of the Caribbean Sea, Negril gives you the chance to sit back and reflect. (Today's picture shows just that with 3 people staring off into the vast blueness of the sea at Mariner's Inn.) Daily Music News: the NEN is gearing up for the Women In Action's International Violence Against Women Day with a fund raising concert entitled "Healing the Womb" at Rainbow Circle - Jamzen on the Cliffs. One of the guest speakers will be Dr. Keefa Lorraina and the musical talent will include the likes of Polly Illey, Muma Leck, Crystal, Yesika Zetzulana, Bully Wrinkle, Ama and Ivo Wiser! This is going to turn out to be a late night fund raiser and awareness raiser on the NEN. The Negril Entertainment Network will be broadcasting Wednesday starting early (around 5:00pm?!) and be going on til late into the evening (after 2:00am?! - so all you people in the North American get ready) . This will be a very special event - so please try to join us online to show your support for this unfortunately necessary cause. Details, as we know them, will be posted on Wednesday on the Negril Message Board! Come and watch, listen and chat with the Women Against Violence! Thanks mon!
At 10:30am - a clear blue day in Negril... The temperature is 79° F, 26° C.
Click here for Translation







This page is sponsored by Catcha Falling Star on the majestic cliffs of beautiful Negril Jamaica. If you like this website, be sure to book your next visit with Catcha Falling Star - just click on the link to take a tour of the property! And be sure to let them know you saw them on Beingee's! If you want to be a sponsor, bemail us. Thanks!
Other area to visit in Jamaica:

© Copyright 1998. Beingee's. All Rights Reserved.