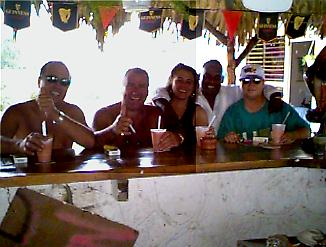 Good Friends and Good Times
November 26th, 1998
On the last Thursday of November, Americans celebrate their national holiday known as Thanksgiving. Thanksgiving is a time to gather with family and friends to celebrate all the things that they to be thankful for throughout the past year. Many Americans choose to gather in our little corner of tropical paradise - Negril Jamaica! Today's picture shows some friends gathering at the Negril Yacht Club getting prepared for their traditional event. Pictured with Neville the bartender is Gary, Nigel, Diane and Sara sipping on some of the fruity concoctions that Neville (formerly at Travelers Beach Resort) can whip up with his trusty blender! So on this day, we would like to wish all the Americans a safe and happy Thansksgiving. As a nation, you have much to thankful for! Irie! Daily Music News: the NEN was up late night (3:30am!) with last night's Women In Action's International Violence Against Women Day fund raising and awareness raising concert at the Rainbow Circle at Jamzen on the Cliffs. A big up goes to all the organizers of the event, it was one memeorable evening. Look for the Negril Entertainment Network to be broadcasting Thursday Night Late once again at Risky Business starting around 9:30 - 10pm. Details on how to watch, listen and chat with the NEN will be posted on Thursday evening on the Negril Message Board!
At 4:06pm - a great afternoon in Negril... The temperature is 85° F, 29° C.
Click here for Translation







This page is sponsored by Catcha Falling Star on the majestic cliffs of beautiful Negril Jamaica. If you like this website, be sure to book your next visit with Catcha Falling Star - just click on the link to take a tour of the property! And be sure to let them know you saw them on Beingee's! If you want to be a sponsor, bemail us. Thanks!
Other area to visit in Jamaica:

© Copyright 1998. Beingee's. All Rights Reserved.