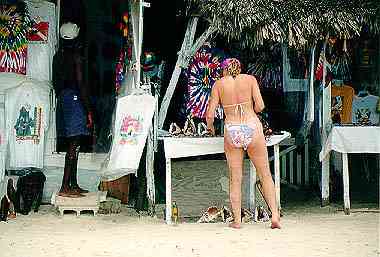 Sunday Shopping

25th, August 1996

It is said that shopping is the number one reason for travel this season. Shopping is great in Negril, with its numerous shops dotting the beautiful beach and mystical cliffs. But, I do think the sun, sand, sea and reggae has something to do with it. Small contest today, on what previous day did we feature shopping? Bonus question, who sent in this picture (shhh... don't tell them!)
Airline seats filling up? No problem! Check the Air Jamaica connections thru Miami, Ft.Lauderdale, NewYork, Atlanta... Get the best flight to an Air Jamaica connection city and catch Air JA. Yah mon! October is coming up!

Chirping in the early morning. At 4:22 am, the temperature is 76° F., 25° C.