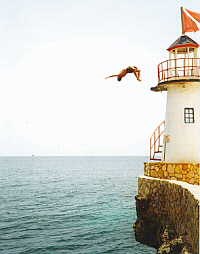 Where Am I?

26th, August 1996

Fun takes all forms in Negril. Our tropical paradise brings out the child in all of us! Today's contest: where is this man doing his flip? And... for the tough part, what is the name of the owner of this cliffside resort. A clue to his identity - he has been helping us with the Negril Dance Again Festival in October.
If flights to Jamaica seem hard to get, check the Air Jamaica connections thru Miami, Ft.Lauderdale, NewYork, Atlanta, Chicago and London... Get the best flight to an Air Jamaica connection city and see you soon mon!

A cloudless Monday morning. At 7:47 am, the temperature is 77° F., 25° C.