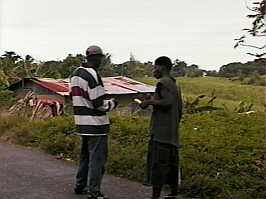 Denzil: Di man dem look like dem soon finish di West End Road.

Sam: Ah dem ha some good plan fe round dah.

Denzil: One memba ah di Negril Chamber of Commerce did ah tell mi bout ey di other day.

Sam: Him real ha some good idea. Ah jus di support dem want.

Denzil: Yah mon.

Click for the previous Back Ah Yawd, or click for the next one.