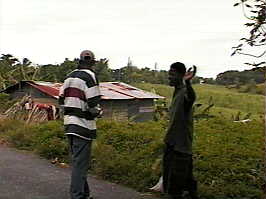 Denzil: When last yuh teck some tourist pan ah hike?

Sam: Camp wid three bwoy inna di mountain di other day fi two day.

Denzil: Soh how yuh deal wid di life inna di hills?

Sam: Wi teck food and water di mosquito was di biggest problem.

Denzil: Soh how bout di music.

Sam: No problem wi teck di tape battery with ah few cassette everything work out irie mon!
Click for the previous Back Ah Yawd, or click for the next one.