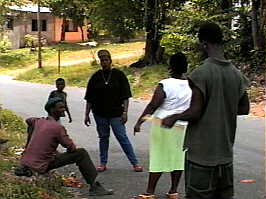 Brenda: Mi never notice sah di water get warm when rain ah fall.

Missy: Ey teck yuh ah long time fi fine out dat.

Brenda: Ah di other day rain catch mi pan di beach an mi goh teck ah dip.

Byron: Surprise yuh ah lot.

Brenda: Mi ah tell yuh now mi know sah when rain catch yuh pan di beach teck di water!

Click for the previous Back Ah Yawd, or click for the next one.