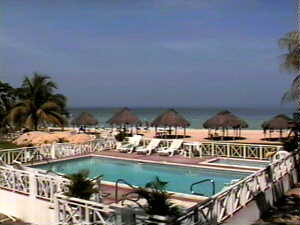 Oceanside Pool

25th, July 1996

Today's picture is brought to by our latest website sponsor, The Crystal Waters Villas. Located on the beach, they have unique offerings for the whole family. Check it out mon!
We have a few notes today. Check out our Traveler Information section. We've added CNN's 4 day Kingston weather forecast. As always, please be sure to check out our site for things to do and places to see. You can even search our site, click here.
At 7:55 am, wispy clouds in an otherwise blue sky. The temperature is 78° F., 26° C.