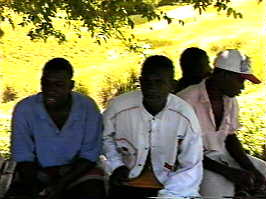 Chancy: Yuh know sah Duane Perry inna town.

Lloyd: Wah yuh ah say look like him come fi di reggae fest.

Chancy: Yuh noh know sah dem dah kinda event noh miss him.

Lloyd: Dem man dah love Negril bad!

Chancy: Mi know him can't come yah an noh come ah Negril whether Sunsplash or Sumfest him ha fi come ah Negril.

Click for the previous Back Ah Yawd, or click for the next one.