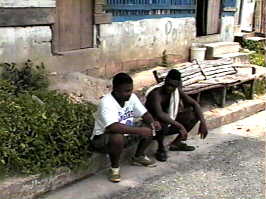 Raymond: Yuh did know sah DeBuss dah ha four show jus before di Sunfest.

Joseph: Ah Carnival dem sah inna di place again.

Raymond: Ah liveliness dah bout again.

Joseph: Fee real man jump and wave.

Raymond: Ah only calypso singers ah feature.

Joseph: Yah mon! Mi love fi watch dem man dah perform dem heat up di place bad mon!

Click for the previous Back Ah Yawd, or click for the next one.