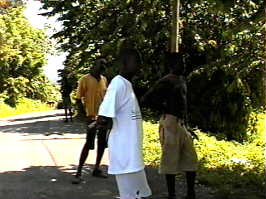 Clifton: Ah $900 (JA) ah night fi gah inna Sumfest.

James: Wha yuh think bout dat?

Clifton: Mi think say ey worth ey fi amount ah performer one night.

James: Sunsplash is ah classic doe. Throughout di years ah best reggae show ever hold in Jamaica. Mi know mon ey well organize.

Clifton: Plus yuh know sah ah international thing to people from all over attend Sunsplash and Sumfest.

Click for the previous Back Ah Yawd, or click for the next one.