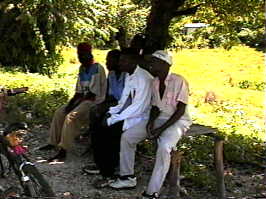 Shrimpy: Every wah yuh go ah jus di reggae fest yuh hear people ah chat bout.

Chancy: Next week ah big holiday.

Lloyd: Di beach ah go ram wid people from all over

Shrimpy: Ah pure party all over di beach music, food and drinks.

Lloyd: Ah nuff big bus load wid people from Kingston, Mandeville, St. Elizabeth and dem place dah.

Click for the previous Back Ah Yawd, or click for the next one.