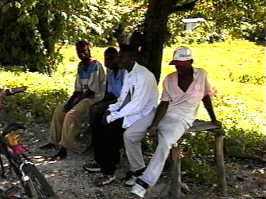 Shrimpy: Bwoy yuh noh feel di reggae fever as Sunsplash draw near.

Lloyd: Right inna pon di Independence.

Chancy: Mi ah teck some ah dem Italian pon di dance hall night.

Shrimpy: Ah dat dah night mi ah plan to go too. Teck in man like Papa San, Mercilless, Bounti Killa.

Chancy: Dem man dah ah good performer ah year dem inna di business.

Click for the previous Back Ah Yawd, or click for the next one.