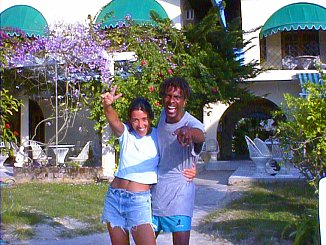 Helio and Ana
January 23rd, 1998
Last night we had a great Thirsty Thursday Pub Crawl at Travellers Beach Resort. We were lucky enough to have a special guest with us, Helio De La Pena from the Brazilian TV show - Casseta & Planeta Urgente! He and Ana are shown here enjoying themselves at the beautiful (and newly remodeled) Charela Inn on the beach! Helio wants to say to all the viewers back in Brazil, "Alo Galera Brazuca! Pinta aqui em Negril que isso aqui e o bicho!!" We hope to hear more from Helio soon mon! And you can hear something soon, tonight we are having a live audio broadcast from the Thatch Hut Bar on Tigress Lane. Join us using your Netshow player starting at 11:00pm JA time. Address will be posted on the Message Board. Tomorrow night at 8:00pm we will have live round by round coverage of boxing from Mariner's Inn! Back Ah Yawd takes place today at last night's Pub Crawl. Click on Back Ah Yawd to see what is happening with Delroy and Nicey...
At 5:09pm, a glorious evening. The temperature is 83° F, 28° C.
Click here for Translation






© Copyright 1998. Beingee's. All Rights Reserved.