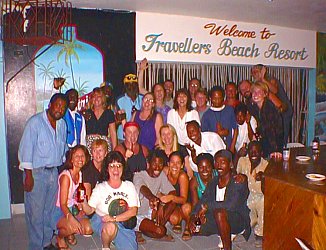 Helio and Friends
January 22nd, 1998 9:08pm
We are LIVE from Travellers Beach Resort with none other than Helio De La Pena from the Brazilian TV show - Casseta & Planeta Urgente! (He's up front mon!) We hope to have more Brazilian friends on our future Pub Crawls! Keep watching mon, and we will be hearing more from Helio very soon! Our live audio is currently streaming, check out the Negril Message Board for the address! Back Ah Yawd moves, Delroy makes his way to Mama B's. Click on Back Ah Yawd to see what he has to say for today.
At 9:08pm, greater times, greater friends. The temperature is 80° F, 27° C.
Click here for Translation






© Copyright 1998. Beingee's. All Rights Reserved.