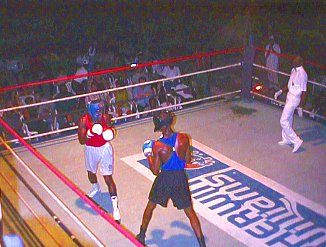 Gettin' Ready To Rumble!!!
January 24th, 1998
We are getting ready to rumble on the cliffs in Negril Jamaica! Delroy Mosley will be bringing you the blow by blow coverage of tonight's event! The crowd is building and we will have some great boxing action. You can join us live, we are having an audio broadcast us using your Netshow player! The address to enter in your Netshow player is
msbd://concert.nothinbut.net:1175
Let us know what you thought of the coverage mon - we are learning! Live Boxing from Mariner's Inn! Back Ah Yawd takes place today at last night's Pub Crawl. Click on Back Ah Yawd to see what is happening with Delroy and Nicey...
At 5:09pm, a glorious evening. The temperature is 83° F, 28° C.
Click here for Translation






© Copyright 1998. Beingee's. All Rights Reserved.