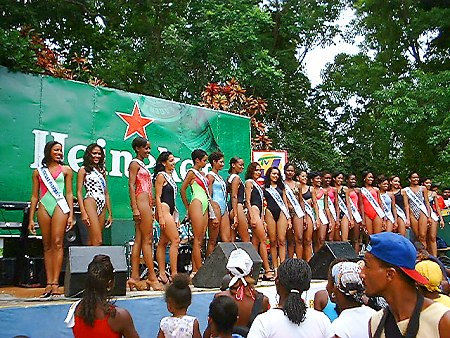 Ms. Jamaica World Contestants
July 22nd, 2000
On Saturday afternoon, the Mariner's Inn Beach Resort (Mariner's Beach Resort - located next to Our Past Time) held their Hot Summer Beach Party! Mr. Vegas and Sean Paul headlined as the daytime event took off in the heat of the summer! In addition to the singers, Jenny Jenny from Radio 2 MC'd the event and got the crowd going for the Ms. Jamaica World Contestants, shown here! It was another wild day in Negril, as anyone who was there can attest! And a special note to Jenny Jenny, it was great meeting you and hope to see you at more of the Radio 2 sponsored events!
Daily Music News: The Negril Entertainment Network's took a forced break on Saturday night as there was a serious Internet problem with Cable & Wireless. The NEN was unable to connect through any of their 5 ISP's. No worries mon, the problem has been resolved and the NEN will be back for the beginning of the Board Meeting Daze starting on the 25th of July at Prento's Thatch Hut! For more about the Board Meeting Daze events - click on our Shows & Events listing in our Entertainment section! As always, keep checking the Negril Message Board for the latest information on how to join the NEN for the next live webcast and chat in the Negril Chatroom! To make it to the Negril Message Board click on the Main Menu above or below and then look for the Negril Message Board link!
At 2:42pm - another sunny afternoon... The temperature is 89° F, 31° C.
Click here for Translation








Other area to visit in Jamaica:

To meet the banner advertisers requirements, we need to post this link to their privacy policy section. Give it a click if you have any qualms about it mon!
© Copyright 2000. Beingee's. All Rights Reserved.