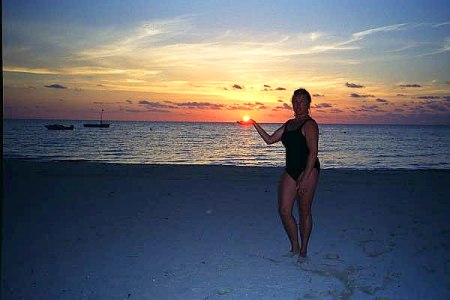 Pamela's Sunset!
July 23rd, 2000
This past week we were emailed some beautiful entries for our Sunset of the Week. This week's sunset was sent in by Pamela and it is called "Pamela's Sunset". Each visit to Negril, Pamela's husband takes a similar picture and this one captures a special moment in their lives! Pamela and her family have made many trips - even their kids refer to Negril as "better than Disneyland!" Thanks Pamela!
Daily Music News: The Negril Entertainment Network's is getting ready for the beginning of the Board Meeting Daze starting on the 25th of July at Prento's Thatch Hut! For more about the Board Meeting Daze events - click on our Shows & Events listing in our Entertainment section! As always, keep checking the Negril Message Board for the latest information on how to join the NEN for the next live webcast and chat in the Negril Chatroom! To make it to the Negril Message Board click on the Main Menu above or below and then look for the Negril Message Board link!
At 11:07am - a perfect morn... The temperature is 84° F, 29° C.
Click here for Translation








Other area to visit in Jamaica:

To meet the banner advertisers requirements, we need to post this link to their privacy policy section. Give it a click if you have any qualms about it mon!
© Copyright 2000. Beingee's. All Rights Reserved.