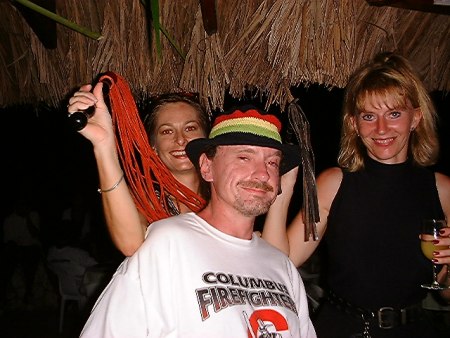 Good Sport Award
July 21st, 2000
At last week's gathering at the LTU Pub to raise funds for Zerial of JAMBA - the Jamaica Mountain Bike Association, your's truly was awarded with the above shown knit reggae hat by Linda and Susan for being a good sport! Linda and Susan provided a great faux dominatrix service to help raise funds to send Jamaica's number one mountain biker, Zerial, to Puerto Rico for his first international competition! No one challanged my sixty "lashes", although Mango and Mike from Pickled Parrot gave it a sporting try! Once again, a big up to all involved!
Daily Music News: The Negril Entertainment Network's will be on break on Friday but return live on Saturday night from DeBuss and later that night (1:00am til 3:30am) at Compulseion for our friends on the American west coast and the early risers in Europe! Keep on checking the Negril Message Board for the latest information on how to join the NEN for the next live webcast and chat in the Negril Chatroom! To make it to the Negril Message Board click on the Main Menu above or below and then look for the Negril Message Board link!
At 1:32pm - the sun is high... The temperature is 89° F, 31° C.
Click here for Translation








Other area to visit in Jamaica:

To meet the banner advertisers requirements, we need to post this link to their privacy policy section. Give it a click if you have any qualms about it mon!
© Copyright 2000. Beingee's. All Rights Reserved.