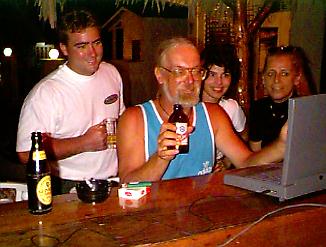 Peter and Cathie at the Yacht Club
April 21st, 1998
The Negril Entertainment Network (NEN) has been busy bringing the sounds of Negril directly into your home (or work). On Saturday evening starting just before sunset, we will be broadcasting each week from the Negril Yacht Club located conveniently across from MXIII. Today's picture shows Peter and Cathie from Niagra Falls, USA peering over Pirate's shoulder at last Saturday's event. NEN News: The NEN is pleased to announce the new Pub Crawl 2 on Tuesday! This crawl will take place starting just before sunset on the beach and will begin at Travellers Beach Resort. We will then head out to venture the beach - no doubt ending up at Alfred's! This is in addition to our continuing Thirsty Thursday Pub Crawl - keep watching for more about it's new starting location! Back Ah Yawd is working into a new story line, so it will be starting back up soon mon. In the meantime, you can check out the last installment by clicking here or on Back Ah Yawd above or below!
At 7:20am, birds and sunshine. The temperature is 78°, 25° C.
Click here for Translation






© Copyright 1998. Beingee's. All Rights Reserved.