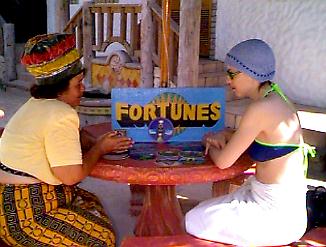 Readings by Debra
April 20th, 1998
Negril is a place where many people claim that spiritual powers are at play. This may explain the numerous repeat visitors that make their pilgrimage to our piece of tropical paradise. One of our new repeat visitors, Trish from Vermont, USA (right) decided to stop by Kuyaba for a spiritual reading by Debra (left). As Trish commented, "she foretells the future" - stop by Kuyaba in the evenings and ask for King Solomons - Queen of Sheba Spiritual Readings by Debra. Also mention you foresaw her on Beingee's! Note: join us Wednesday Night live from Travellers Beach Resort on the NEN! Details will be posted on the Negril Message Board on Wednesday. Look for it! Back Ah Yawd is working into a new story line, so it will be starting back up soon mon. In the meantime, you can check out the last installment by clicking here or on Back Ah Yawd above or below!
At 9:30am, sun is shining. The temperature is 81°, 27° C.
Click here for Translation






© Copyright 1998. Beingee's. All Rights Reserved.