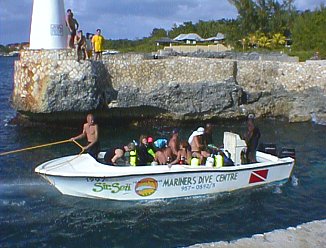 Heading Out
December 20th, 1997
The sea is getting back to normal after a few days of high waves. One of the benefits of the rough sea is incredible divng afterwards! The ocean has cleaned itself out and it makes for some great scuba mon! Today's picture courtesy of Mariner's Inn Dive Shop. Note: Join us later this evening for the Internet Pub Crawl - we are visiting Tayon's Chicken and La Mar Resort tonight so be back here around 7:00pm JA time and met with us online! See you soon! Back Ah Yawd continues at the Chamber of Commerce's new Hospitality Training Center at Mirage Resort. Click on Back Ah Yawd to see the latest!
At 12:29 pm, getting ready for tonight! The temperature is 83° F, 27° C.
Click here for Translation






© Copyright 1997. Beingee's. All Rights Reserved.