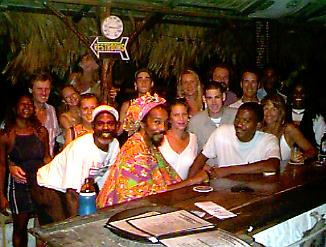 Saturday Night Live!
June 20th, 1998 10:00pm
Saturdaynight LIVE at Negril's wild West End - the Negril Yacht Club proved to be the perfect host for our live Real Audio Broadcast of Ivo Wiser and the Airwave Musicians plying right along the Caribbean Sea! We had a great crowd, and those listening on the NEN (Negril Entertainment Network) were even treated to an interview with Ivo and Delroy after the performance (shown here with Ivo in the front). Note: on Thursday we had a "guess where today's picture was taken" contest - and the winner was Don B. for correctly guessing Chuckles Resort - located near the very center of Negril! We'll be looking for you Don at one of our next Pub Crawls! Back Ah Yawd is still on break - sorry mon, soon come!
At 10:00pm - a great evening on the Caribbean. The temperature is 80° F, 28° C.
Click here for Translation








This page is sponsored by Charela Inn on the beautiful beach of Negril. If you like this website, be sure your next visit includes a stop at the fabulous Charela Inn and Le Vendome Restaurant! Let them know you saw them here! If you want to be a sponsor, bemail us. Thanks!
Other area to visit in Jamaica:

© Copyright 1998. Beingee's. All Rights Reserved.