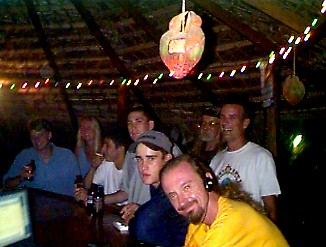 Friday Night Live!
June 19th, 1998 11:00pm
It is Friday night late under the Thatch Hut Bar on Tigress Lane as we broadcast some new reggae live on the NEN (Negril Entertainment Network). As you can see, we all (Kit, Renee, Haws, David, Kyle, Rob, Pirate and Preachermon) are having a wild bashment on Negril's wild West End, sometimes referred to as "the best end". Join us again on the NEN live from the Negril Yacht Club on Saturday night - featuring the live sounds of the Airwaves Band right on the Caribbean Sea! Note: yesterday we had another guess where today's picture was taken contest - but we have been unable to receive any email, so be sure to check Saturday's page for the winner of Thursday's contest. Back Ah Yawd is still on break - sorry mon, soon come!
At 11:00pm - as you can see... The temperature is 81° F, 28° C.
Click here for Translation








This page is sponsored by Charela Inn on the beautiful beach of Negril. If you like this website, be sure your next visit includes a stop at the fabulous Charela Inn and Le Vendome Restaurant! Let them know you saw them here! If you want to be a sponsor, bemail us. Thanks!
Other area to visit in Jamaica:

© Copyright 1998. Beingee's. All Rights Reserved.