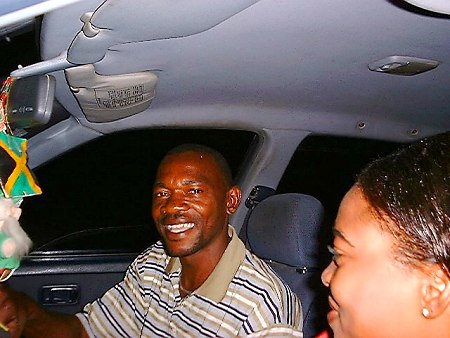 Alfred at Work!
February 19th, 2000
Sometimes a moment just grabs you and you feel the urge to stap a picture! Aflred, one of the Taxi Drivers listed under the Beingee's Tous and Transportaion section (located on our Main Menu) was laughing so hard at a joke that I just needed to take the photo. This is the real beauty of Jamaica, the smiles you share with some of the greatest people on the planet!
Daily Music News: due to medical reasons, the Negril Entertainment Network is using this break time to once again to finetune their Real System to bring you the best webcast possible over the internet! As soon as more information is available it will be posted so please be sure to check the Negril Message Board for the most current information on joining the webcasts and chat sessions! To make your way to the Negril Message Board click on the Main Menu above or below and then look for the Negril Message Board link!
At 1:01pm - sunny appearing. The temperature is 84° F, 29° C.
Click here for Translation








Other area to visit in Jamaica:

© Copyright 2000. Beingee's. All Rights Reserved.