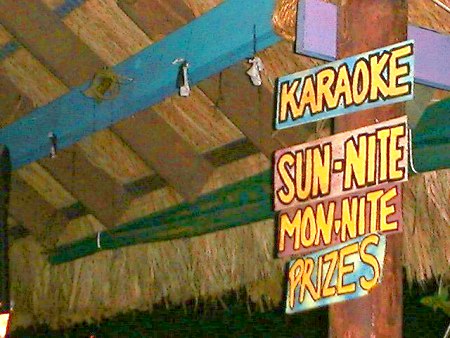 Karaoke at Margueritaville
February 18th, 2000
Sunday and Monday nights are are for all you closet singers - you know who you are, you sing in the car and to the annoyance of your spouse, the shower! You aspire to be on stage in front of a fun crowd and even dream of coing home with some money in your pocket! Well, maybe not even feels that way, but if Karaoke is your thing, Margueritaville is the place! If you're a bit shy, try a beer bong or two - it may not improve your singing, but it will be an interesting experience! Margueritaville on Sunday and Monday!
Daily Music News: due to medical reasons, the Negril Entertainment Network is using this break time to once again to finetune their Real System to bring you the best webcast possible over the internet! As soon as more information is available it will be posted so please be sure to check the Negril Message Board for the most current information on joining the webcasts and chat sessions! To make your way to the Negril Message Board click on the Main Menu above or below and then look for the Negril Message Board link!
At 12:34pm - clouding up after a sunny morning. The temperature is 84° F, 29° C.
Click here for Translation








Other area to visit in Jamaica:

© Copyright 2000. Beingee's. All Rights Reserved.