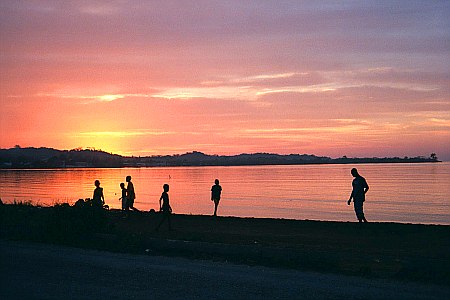 Roscoe's Sunset
February 20th, 2000
this week we have a special Sunset of the Week sent in by Roscoe from Michigan, USA! He took the photo on February 3rd, apparently near a football field on his way down the Norman Manley Road. Thanks Roscoe! And if you would like to se eone of your favorite shots on Negril Today, please feel free to email us your photo in a JPEG format - we can't promise to use everyone, but we will try!
Daily Music News: due to medical reasons, the Negril Entertainment Network is using this break time to once again to finetune their Real System to bring you the best webcast possible over the internet! As soon as more information is available it will be posted so please be sure to check the Negril Message Board for the most current information on joining the webcasts and chat sessions! To make your way to the Negril Message Board click on the Main Menu above or below and then look for the Negril Message Board link!
At 1:16pm - more clouds. The temperature is 84° F, 29° C.
Click here for Translation








Other area to visit in Jamaica:

© Copyright 2000. Beingee's. All Rights Reserved.