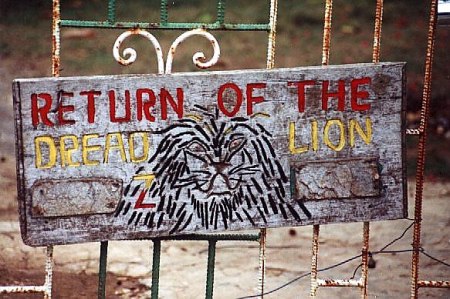 Got Any Ideas?
May 18th, 2000
It is true that you never know what you will see when you are in Negril! And sometimes after you see it, you still don't know what it is! (grin) Today's Negril Today page is another of our contests! Jeff and Cindy sent in this picture an asked what it was meant. So that is today's question - What is this sign referring to? The first person to email me with the correct answer will be bought a cold drink by the NEN during the next Live NEN Event you attend! Good luck! Daily Music News: The Negril Entertainment Network will be on break Thursday evening. The next NEN LIVE Event is Friday night from Alfred's Ocean Palace! Check the Negril Message Board for information on how to join the NEN for the live webcast and chat in the Negril Chatroom! To make it to the Negril Message Board click on the Main Menu above or below and then look for the Negril Message Board link!
At 11:36am - sunny noon hour... The temperature is 85° F, 29° C.
Click here for Translation








Other area to visit in Jamaica:

To meet the banner advertisers requirements, we need to post this link to their privacy policy section. Give it a click if you have any qualms about it mon!
© Copyright 2000. Beingee's. All Rights Reserved.