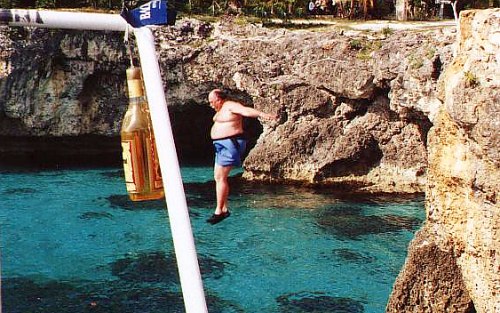 Mikeymon's Plunge!
May 19th, 2000
There are unusual things to see all over Negril and the cliffs is has its share of great places to see the unexpected! Today's Negril Today features Mikeymon in his death defying (well, not really) jump off the cliffs at the Pickled Parrot! Mikeymon was one of the boarders it was our great honor to meet at last month's "Board Meeting". Next week at this time the May "Board Meeting Daze" will be in full swing! Check the Negril Message Board for the latest information! Note: Speaking of the Board, yesterday's contest was "email in" contest, not a "post the answer on the board" contest, making this contest "dull & void" (grin). We will have another contest coming up soon mon! Daily Music News: The Negril Entertainment Network had what one person said was our best webcast ever at Alfred's Ocean Palace on Friday night! We're going to be trying to arrange a morning/daytime webcast and chat this week. Check the Negril Message Board for the latest information on how to join the NEN for the live webcast and chat in the Negril Chatroom! To make it to the Negril Message Board click on the Main Menu above or below and then look for the Negril Message Board link!
At 11:47pm - a quiet night near the morass... The temperature is 79° F, 25° C.
Click here for Translation








Other area to visit in Jamaica:

To meet the banner advertisers requirements, we need to post this link to their privacy policy section. Give it a click if you have any qualms about it mon!
© Copyright 2000. Beingee's. All Rights Reserved.