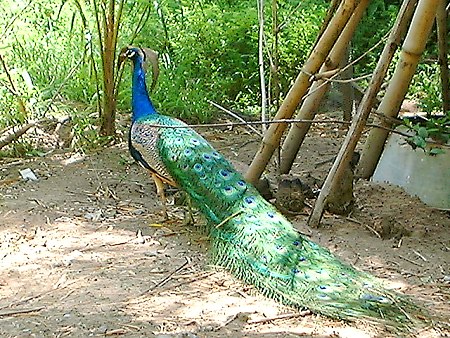 Peacock at Golden Sunset
May 17th, 2000
As we keep saying, you just never know what you will see when you are in Negril! Located across the beach road from Alfred's Ocean Palace is the Golden Sunset! The Golden Sunset is a Negril classic, being one of the lasting hotel properties in the area! And you can see why! Today's Negril Today features of the most beautiful lifeforms on the planet - the Peacock! The Golden Sunset has many such wonders of nature, peahens, turkeys, fish ponds and bee-keeping facilities! Book a stay there on your next visit see a part of Jamaica seldom seen! Daily Music News: The Negril Entertainment Network will be on break Thursday evening. The next NEN LIVE Event is Friday night from Alfred's Ocean Palace! Check the Negril Message Board for information on how to join the NEN for the live webcast and chat in the Negril Chatroom! To make it to the Negril Message Board click on the Main Menu above or below and then look for the Negril Message Board link!
At 9:07am - another sunny morning... The temperature is 80° F, 27° C.
Click here for Translation








Other area to visit in Jamaica:

To meet the banner advertisers requirements, we need to post this link to their privacy policy section. Give it a click if you have any qualms about it mon!
© Copyright 2000. Beingee's. All Rights Reserved.