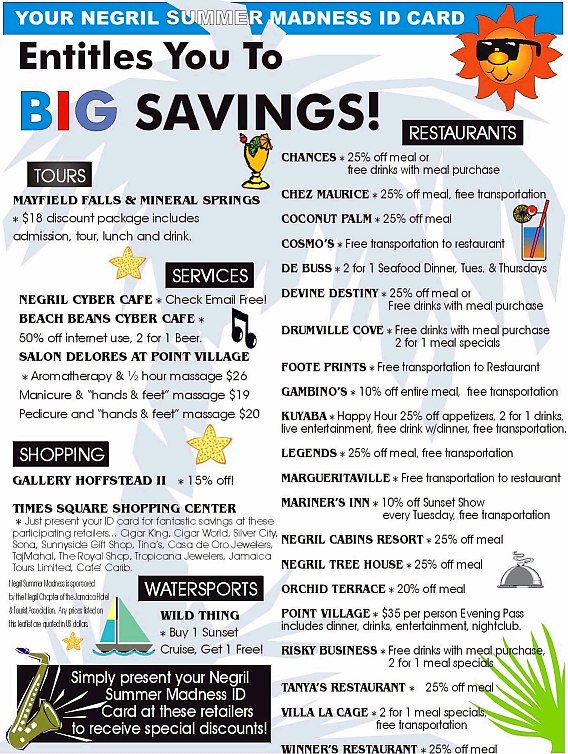 More Negril Summer Madness 2000!
May 16th, 2000
Greetings from Negril! The past day or so there has been some confusion about the Negril Summer Madness Specials. Because of your interest in the ID Card discounts, I asked if they can be available to people staying at the non-participating hotels. After contacting the JHTA, here is their reply! "The (ID)cards and flyers have been distributed to the various participating entities. We will sell ID cards for 5.00 US or 200.00 J'ca. Locations the cards will be sold are as follow: Point Village - Negril Gardens - Rondel Village - Seasplash Resort - Negril Cyber Cafe" Yah mon - because of your interest, the ID card will be made available for sale! Thanks for inquiring mon! The power of the Internet keeps on shining! Irie! For Summer Madness 2000 hotel discounts, click here! Daily Music News: The Negril Entertainment Network will be on break Tuesday. The next NEN LIVE Event is Wedenesday night from Roots Bamboo! Check the Negril Message Board for information on how to join the NEN for the live webcast and chat in the Negril Chatroom! To make it to the Negril Message Board click on the Main Menu above or below and then look for the Negril Message Board link!
At 8:36am - sunny morning... The temperature is 80° F, 27° C.
Click here for Translation








Other area to visit in Jamaica:

To meet the banner advertisers requirements, we need to post this link to their privacy policy section. Give it a click if you have any qualms about it mon!
© Copyright 2000. Beingee's. All Rights Reserved.