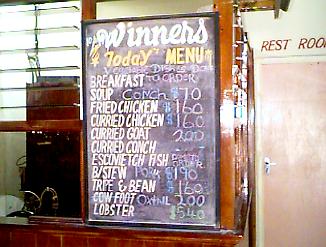 Winners Made to Order Menu
November 17th, 1998
In Negril, at times you may want to enjoy some fine food in air conditioned comfort. Since most of the establishments in Negril are open air, this is not always the easiest thing to find. But that's why Beingee's is here - to let you know everything you need to know about Negril! Just east of the roundabout (before the Shell Station) you will find one of Negril's air conditioned restaurant bars - Winners! Today we wanted to show you the Winners Daily Menu - with delicacies made to order. Having a sports bar theme that features off-track betting, you can sit back and enjoy a bowl of the soup of the day, try some of their outstanding escovietch fish while watching the horses race from tracks all around the world! Yah mon! Even place a bet or two and try your luck - you never know - you just might end up the Winner! Look for another air conditioned restaurant to be the topic of tomorrow's (Wednesday) Negril Today! Daily Music News: after our trying afternoon and evening yesterday (Monday) without the Negril Message Board, the NEN still managed to pull off the best broadcast we've had yet at Risky Business with the Mikey and the Working Band. Thanks to all those who attended and helped us spread the word even without the Message Board. Look for the Negril Entertainment Network's broadcast from the Sunset Show at Mariner's Inn on Tuesday evening - details should be posted on the Negril Message Board! Watch, listen and chat with us on the NEN!
At 5:20pm - the sun begins to set. The temperature is 82° F, 27° C.
Click here for Translation







This page is sponsored by Catcha Falling Star on the majestic cliffs of beautiful Negril Jamaica. If you like this website, be sure to book your next visit with Catcha Falling Star - just click on the link to take a tour of the property! And be sure to let them know you saw them on Beingee's! If you want to be a sponsor, bemail us. Thanks!
Other area to visit in Jamaica:

© Copyright 1998. Beingee's. All Rights Reserved.